In today's fast-changing business landscape, sustainability goes beyond financial performance. It's about more than just numbers on a balance sheet. Companies are facing increasing pressure to demonstrate their commitment to sustainability, and traditional financial reporting may not be enough to meet stakeholder expectations. Sustainability reporting is becoming increasingly relevant as it provides a holistic view of a company's sustainability performance, going beyond financial metrics to reveal its true impact on people, planet, and profits. This shift towards sustainability reporting reflects a changing paradigm where companies are not only judged by their profits, but also by their social and environmental contributions. It's a new era where transparency, accountability, and sustainability are driving business practices, and sustainability reporting is at the forefront of this transformation.
The legal context and framework
With the Green Deal, Europe ambitions to be the first climate neutral continent on earth, by transforming the EU's economy in a modern economy, competitive and efficient in the usage of resources. To find the €1 trillion needed for this transition, the EU has developed Sustainable Finance Package which has the ambition to redirect the flow of money towards sustainable activities. 
This ambitious plan has therefore set the stage for coming regulations and actions. Among them, three major regulations will impact companies in the near future: 
1.     The Corporate Sustainability Due Diligence Directive (CSDDD)
This directive will force companies to identify, and when necessary, prevent or mitigate the negative impacts of their activities on human rights and on the environment. The goals of this Directive are to foster sustainable and responsible corporate behavior throughout global value chains and to provide more transparency for consumers and investors. 
2.     The EU Taxonomy
The EU Taxonomy is a classification system that qualifies economic activities according to their contribution to the EU's 6 climate and environment objectives: 
Climate change mitigation
Climate change adaptation
The sustainable use and protection of water and marine resources
The transition to a circular economy
Pollution prevention and control
The protection and restoration of biodiversity and ecosystems
The EU Taxonomy lists four conditions for an activity to be considered as "environmentally sustainable": 
Positive: make a substantial contribution to at least one of the 6 EU climate and environmental objectives
Negative: at the same time, do not harm any of these objectives (= DNSH - "Do No Significant Harm")
Social: respect minimum social guarantees in terms of human and labor rights (OECD, UN, ILO)
Threshold: pass the technical screening criteria per positive activity
The objectives of the EU are to provide guidance and security to (private) investors in order to protect them from greenwashing, to guide companies in their climate-friendly transition and to mitigate market fragmentation. The final objective through this is to shift investments where they are most needed.
3.     The Corporate Sustainability Reporting Directive (CSRD) 
General concepts
To bring more transparency to consumers and investors on activities contributing to the EU climate and environment objectives, the Corporate Sustainability Reporting Directive (CSRD) strengthens the rules for companies about reporting on social and environmental information. Indeed, companies subject to the CSRD will have to publish an integrated report including the European Sustainability Reporting Standards (ESRS) that are being developed by the EFRAG. 
The CSRD also introduces the concept of Double Materiality when reporting on social and environmental information. The double materiality emphasis the two-way relationship between financial decisions and the social and environmental factors. This means that companies will now have to assess the financial risk of sustainable issues but also how their own activities impact the people, the society and the environment (impact materiality).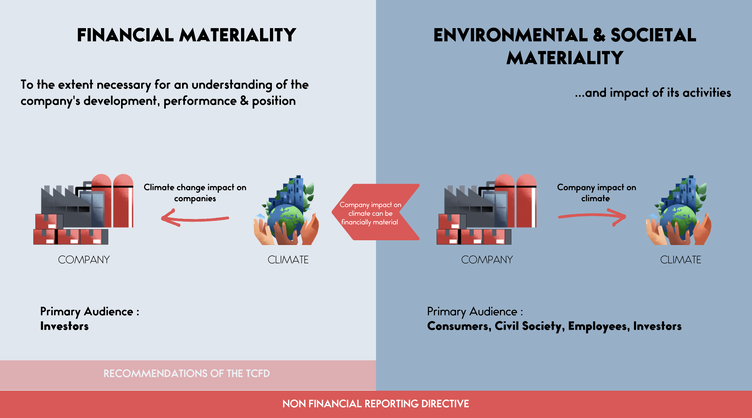 The CSRD emphasizes the need for companies to measure their impact in their whole Value chain. This means that companies will have to measure the environmental impact of their suppliers (production of input), as well as their clients (usage of the product).
And finally, the new standards require companies to disclose clear targets and transition plans showing that they have a strategy compatible with the 1.5°C global warming limit of the Paris Agreement as well as the 2050 climate neutrality objective of the EU. 
Timeline
Unlike the Non-Financial Reporting Directive (NFRD), the CSRD will bring reporting obligations for more numerous companies, with a different timeline according to the company type, as shown on the illustration below.

NFRD company type refers to companies already subject to the Non-Financial Reporting Directive today, meaning large public-interest companies with more than 500 employees (e.g. banks, insurance companies, etc). 
Other large companies are the ones gathering at least two of these three criteria: (1) more than 250 people, (2) €40 million turnover, (3) €20 million balance sheet. 
Listed SME's refer to EU small and medium-sized undertakings having securities listed on EU regulation markets and meeting two of the three following criteria: (1) €8 million Net turnover, (2) €4 million balance sheet, (3) an average of 50 employees during the financial year.
Non-EU parent companies will have to report on sustainability according to CSRD if they generate a net turnover of €150 million in the EU and have at least one subsidiary or branch in the EU. 
Impact
The legal framework set by the European Union brings lots of concerns and required adaptations for lots of companies. However, companies shouldn't see and fear this as a whole new revolution. These regulations indeed follow a logical path already expanding in the last decades with growing customer and stakeholder demand for more sustainable products and services. The CSRD and Sustainability Reporting are only a logic and positive evolution in this area.  
Additionally, companies should look at this evolution not as a constraint but more as an opportunity to structure their sustainability strategy and governance. You might now wonder: "Yes, but how?".  At ngage we have taken a closer look at this matter and have identified some internal and external benefits that companies would gain from adhering to this new legal framework. 
Stay tuned for part two of this article in which we will be revealing the approach we have developed to enable companies to understand the inherent benefits but also to enable them to project themselves into this journey and better understand where to start.